Welcome to The Arc of Fayette County
The Arc of Fayette County offers services and supports to individuals with developmental and intellectual disabilities and their families of Fayette County and surrounding areas. Our website furthers our mission by providing ways for you to learn more and get involved by volunteering, donations, and possible employment opportunities. We can make a difference with your help. Thanks for visiting. Check out our latest newsletter on "Get Connected" and visit our Event Calendar to find out all the details of what's happening!
For the last 36 years, the Pennsylvania Knights of Columbus and The Arc of Pennsylvania have been partnering to support the local Arc Chapters through the "Measure Up Campaign." On November 26, 2014 Roger Beadling, Grand Knight, Dave Puscar, Council Treasure, and James Adamcheck, District Deputy, from the Knights of Columbus Council # 4427 visited The Arc of Fayette County.
Grand Knight, Roger Beadling, presented a generous donation of $1000 to Audra Barozzini, Executive Director and Scott Allen, Board President of The Arc of Fayette County. The funds will be used towards the annual Holiday Party that is held at the Holiday Inn for the program participants receiving services through The Arc of Fayette County.
The Arc of Fayette County is sponsoring a pie sale fund raiser during the months of April and May. Please support the Program Participants of The Arc of Fayette County.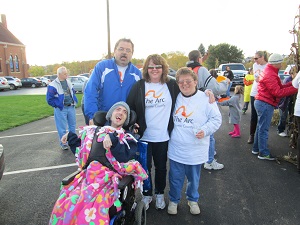 Posted on 04/27/2015

Posted on 04/20/2015
---