Welcome to The Arc of Fayette County
The Arc of Fayette County offers services and supports to individuals with developmental and intellectual disabilities and their families of Fayette County and surrounding areas. Our website furthers our mission by providing ways for you to learn more and get involved by volunteering, donations, and possible employment opportunities. We can make a difference with your help. Thanks for visiting. Check out our latest newsletter on "Get Connected" and visit our Event Calendar to find out all the details of what's happening!
The Arc National Convention

The Arc of Fayette County recently attended The Arc National Convention in New Orleans, LA. Pictured left to right: Audra Barozzini, Executive Director: Brenda Fike, Information and Systems Development Manager; Dana Zinck, Assistant Executive Director.
Sign the Pledge to Stop Violence, Abuse, and Bullying

Over the last few months, there have been several high profile cases of violence, abuse, and bullying against people with intellectual and developmental disabilities (I/DD). These incidents, particularly in Ohio and Delaware, grabbed the attention of the media and the public. While the authorities are pursuing charges in both cases, too many instances of violence, abuse, and bullying of people with I/DD go unreported, unnoticed, and unresolved.

Sign the pledge to show your support for this effort.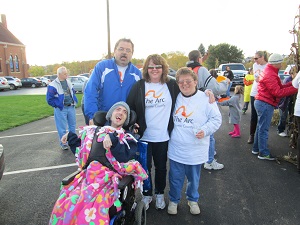 Posted on 11/24/2014

Posted on 11/17/2014
---